Rock band The Alarm generated more than £20,000 in subscription revenue by exclusively previewing their new album via fan engagement platform FanCircles before it debuted on streaming services.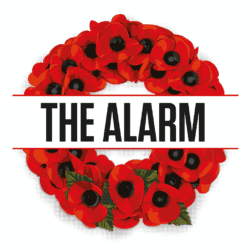 Fans who signed up for premium membership were given access to a host of benefits including a track-by-track unveiling of the Welsh rock band's new LP War on the newly launched app on February 25 – the birthday of lead singer Mike Peters.
The first track was dropped at 9.30pm, with another new song following every 15 minutes until the record's global release at midnight.
"We were in the middle of making this album that was written and created in 50 days, so were open to new ways of delivering our music," explained Peters.
"The FanCircles platform arrived on our doorstep and it seemed a great way for us to launch the album, so we launched it on the night of my birthday and spent four hours live on the platform, The Alarm Central, talking to our fans."
FanCircles has provided artists with a new, sustainable income stream via their own private social network during the pandemic and has attracted more than 500,000 users to its Fan.Direct website and mobile app. Over 40 acts have already signed up to the platform, including The Levellers, Paloma Faith, The News Boys, Ed Harcourt and Bon Jovi guitarist Phil X.
"What struck me about it was that it seemed a brilliant new way to take The Alarm's relationship with our audience forward without being in the domain of the big publishers and big tech," added Peters. "It has also created a safe space for me personally to be able to communicate and interact with people who care about the music of The Alarm."
The Alarm have a long-running fan club and are due to tour later this year to mark their 40th anniversary as a band.
"Working with a band like The Alarm is an absolute privilege," said Craig Swan, FanCircles' director of account management.
"They have incredible fans and an amazing history, but they are also forward-thinking. The launch of their platform, The Alarm Central, coincided with the release of their new album War. Not only did we deliver a unique, interactive launch night on the app, we also generated over £20,000 in subscription revenue in an extremely short period of time."
Based on streaming revenue estimates, clients need to sign up just 50 annual subscribers to make the same money as one million streams.
"A key difference with us is that a fans can access the community for free if they choose to," added Swan. "Our premium tier offers insane value from the artist, but we are 100% community focused. This is the future of a heightened relationship between artists and fans."
Mike, lead singer and song writer from the band said they had "considered making a Patreon page but had heard from other artists that it wasn't working too well for them. One of the issues with platforms like Patreon, Substack and Onlyfans is their just not made for music artists"