In the wild annals of rock 'n' roll, there's a sacred hall of legends that have defied the sands of time, genre shifts, and the ever-changing cultural landscape. Iron Maiden emerges as the ultimate rock titan especially when it comes to the power of fandom they have grown and the sheer size of their fan club. Born from the raw, unadulterated vibes of East London in the late '70s, these British metal gods have etched a legacy that's nothing short of legendary. Their epic saga, stretching over four roaring decades, isn't just a tale of musical mastery but a playbook on the art of rock business.
Maiden's sound, a lethal cocktail of blistering guitar solos, thunderous rhythms, and Bruce Dickinson's iconic wails, has set the souls of millions on fire. But the Maiden magic isn't just confined to their tracks. They've turned their name into a rock empire. Be it chart-busting albums, electrifying world tours, killer merch, or even that beast of a plane piloted by the man Dickinson himself, everything they touch turns to metal gold.
Enter the Iron Maiden Army – not just fans, but die-hard disciples. This isn't just a fandom; it's a global brotherhood, united under the Maiden banner. The band, ever in sync with their army, has always given back in spades. Exclusive fan club bashes, wicked limited-edition gear, and fan-fueled mega events are just a taste of the Maiden experience.
But let's not kid ourselves; it ain't just about the love. It's about the green. And Maiden? They've got the Midas touch. Their tours are legendary, with venues bursting at the seams. And their merch? From tees and posters to badass action figures and their very own brew, it's a treasure trove for fans and collectors. Every beat, every riff, every move is a chance to cash in, and Maiden does it with a swagger that's enviable.
To sum it up, Iron Maiden's ride is the ultimate lesson in rock branding and cashing in. It's a masterclass in tapping into fan power, building a rock-solid community, and then turning that passion into pure profit. In the fickle world of rock, where bands rise and fade, Iron Maiden's relentless success is a roaring anthem to their genius – both in the studio and the bank.
The Fan Driven Financial Powerhouse
Iron Maiden's knack for turning up the volume on their earnings is nothing short of legendary. Take their 2018 European tour, for instance. These metal maestros rocked their way to a jaw-dropping $15 million in just a mere nine shows, as reported by Metal Injection. And if you thought that was impressive, their Madrid gig alone had the cash registers ringing to the tune of a cool $4.7 million. But the rock saga doesn't end there. The "Legacy of the Beast" tour in 2018 wasn't just a musical extravaganza; it was a testament to Maiden's global magnetism. With a staggering gross of $168.9 million from a whopping 2,248,864 tickets across 122 electrifying shows, as highlighted by Touring Data, it's clear as day: this isn't just about the headbanging tunes. It's about a band that's mastered the art of the rock business, understanding their worth and their die-hard fans.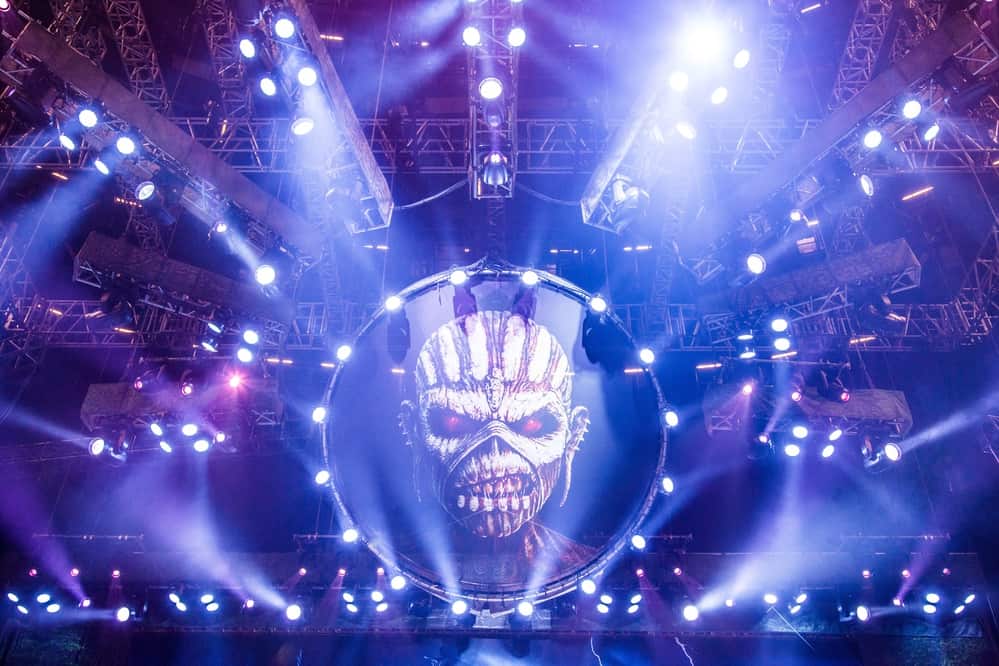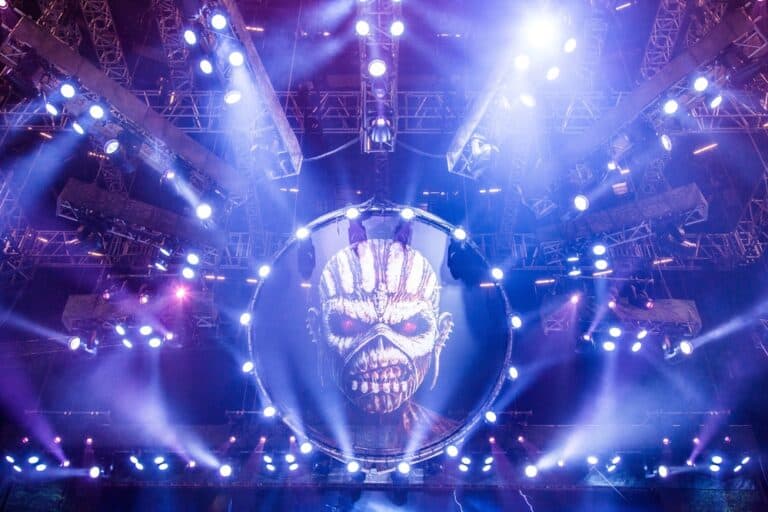 Merch Mayhem: Iron Maiden's Treasure Trove
Touring might be their showstopper, but Iron Maiden's merch game is nothing to scoff at. It's a veritable treasure chest, a fact underscored by a 1993 piece from The Guardian, noting how tour merch can be a band's golden goose. But for Maiden, it's not just about slapping their logo on tees and posters. They've turned "Eddie," their legendary mascot, into an immortal icon, splashed across everything from action figures to video games. It's not just merch; it's a rite of passage for fans, tangible proof of their allegiance to the rock gods.
The Power Of Fandom: Beyond the Music
In the pulsating heart of Maiden's universe is their fan club, a sanctum for the die-hards they've fiercely cherished over the decades. It's not just a hub for band updates; it's a VIP lounge, dishing out everything from exclusive merch drops to first dibs on concert tickets. This isn't just fan service; it's a masterstroke in building loyalty, with the power of fandom, while keeping the registers ka-chinging.
And when it comes to new ear candy, the anticipation hits fever pitch. Take the buzz surrounding their next act after the 2006 hitmaker "A Matter Of Life And Death." It's electric, with insiders like producer Kevin Shirley fueling the fire with talk of recording sessions, as he shared on his website, sending the fanbase into a frenzy. Fast forward to their latest release, "Senjutsu," which has once again showcased the band's unparalleled prowess and Shirley's masterful touch. The album, with its intricate compositions and powerful narratives, has been hailed as another masterpiece in Maiden's illustrious discography. This is Maiden's world, and we're just living in it, rocking on in a ceaseless symphony of fandom and fortune.
Maiden's Magic: Rocking the Business Charts
It ain't just the riffs and solos that have catapulted Iron Maiden to legendary status. Their rock-solid business chops, branding brilliance, and knack for riding the digital wave have been game-changers. They're not just jamming on stage; they're jamming on social media, connecting with fans everywhere. And if you thought they were just about the music, think again. They've dived headfirst into the gaming universe with "Iron Maiden: Legacy of the Beast," a mobile game that's as epic as their tracks. Every play, be it on stage or in the business arena, is a masterstroke, amplifying their brand while staying fiercely Maiden.
Maiden's Legacy: Rock Gods and Business Mavericks
From belting out tracks in East London's gritty pubs to setting global stages on fire, Iron Maiden's odyssey is the stuff of rock legend. But it's more than just the music. Their tale is a masterclass in fanning the flames of fandom, recognizing their brand's goldmine potential, and evolving while keeping their metal soul intact. In the rock universe, Iron Maiden doesn't just stand tall; they soar. They're not just musical maestros; they're trailblazers, showing the world how to rock both the stage and the balance sheet.