Introduction
Let's dive into the music industry with the music industry report 2023. Navigating the intricate tapestry of the music industry in 2023 requires an understanding that goes beyond mere numbers and charts. It's about recognizing the nuanced dynamics between artists and their audiences. Broadly speaking, the industry can be perceived through two lenses: music with followers and music with fandom.
Yet, this boundaries aren't as clear-cut as initially it appears.
Artists like The Weeknd, Drake. Bad Bunny or Adele, who frequently top the charts and often seem to dominate streaming platforms, are emblematic of the "music with followers" category. Their widespread appeal ensures that their tracks are omnipresent, from radio airwaves to casual playlists. Their fanbase is vast, and their influence is undeniable. Yet, it's essential to understand that this doesn't mean they lack dedicated fans. Adele, for instance, has a legion of admirers who resonate deeply with her soulful ballads. However, the nature of their engagement might differ to those who like say Coldplay. While Adele fans might attend her concerts, they might not necessarily have the level of fandom that leads to wearing artist-themed merchandise or joining dedicated fan communities.
Contrastingly, the "music with fandom" category, represented by icons like BTS, Taylor Swift, and Guns'n Roses, Avril Lavigne, thrives on a different kind of relationship. Their success is palpable in the arenas they fill, the merchandise they sell, and the dedicated communities they foster. Their fans don't just listen; they live the music, often forming bonds that go beyond the melodies.
Yet, it's crucial to understand that there's a spectrum of engagement, with many artists enjoying both followers and a dedicated fandom. The lines blur, and the industry thrives on this beautiful complexity.
This report delves deep into the live music industry, emphasizing the intricate dance between fandom and casual listenership. In an era where digital metrics are paramount, we aim to highlight the tangible, real-world impact of artists and the multifaceted ways they connect with their audiences. Drawing insights from FanCircles, at the forefront of artist-fan engagement, we'll explore the evolving landscape of live music in 2023, celebrating the myriad ways artists resonate with their listeners.
Join us on this journey as we dissect the vibrant world of live music, understanding the myriad shades of artist-audience relationships and the ever-evolving definitions of success in the music industry.
About FanCircles
FanCircles is a pioneering platform dedicated to revolutionizing the artist-fan relationship. In an age where genuine engagement is paramount, FanCircles bridges the gap between artists and their dedicated communities, offering tools that foster intimate connections, monetization opportunities, and valuable first-party data insights. By placing fans at the heart of the experience, FanCircles ensures that artists can cultivate and nurture their most valuable asset: a loyal and passionate fanbase. Whether it's through exclusive content, interactive features, or direct communication channels, FanCircles stands as a beacon for authentic fan engagement in the modern music industry.
Bands, Brands And SuperFans
In the dynamic world of music, the synergy between bands, brands, and superfans is undeniable. Bands create the magic with their melodies and lyrics, brands amplify this magic through collaborations and endorsements, and superfans are the lifeblood that keeps this ecosystem thriving. Superfans, with their unwavering loyalty and passion, not only support their favorite bands but also embrace the brands associated with them. This triad forms a powerful alliance, driving both cultural influence and economic value. In an era where authenticity reigns supreme, the interplay between bands, brands, and superfans is reshaping the music industry, creating experiences that are both memorable and impactful.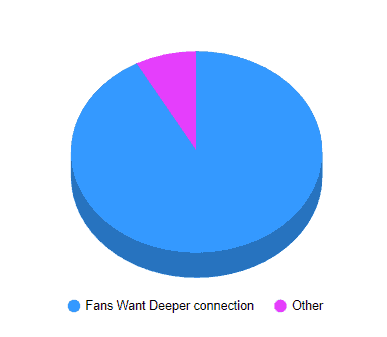 Furthermore, 73% felt that artists who regularly engage with their fan community, whether through fan club apps or social media, appeared more genuine and relatable. This data underscores the profound need for artists to foster closer ties with their most dedicated fans, as it not only strengthens their bond but also enhances the overall fan experience.
How Many Artists Do SuperFans Actually Listen To?
Platforms like Spotify and Apple Music offer listeners access to virtually "all the music in the world." But when it comes to superfans, the dynamics are different. Superfans, by nature, have a deep-rooted connection to specific artists, often transcending the casual listening habits of the average music consumer.
According to a study by Music Ally, Spotify defines these dedicated listeners as "super listeners." The data reveals that, on average, super listeners make up just 2% of an artist's monthly listeners but account for a staggering 18% of monthly streams. This indicates that while they might be a small fraction of the total listener base, their engagement levels are significantly higher. Furthermore, these superfans continue to engage with an artist's music long after its release. Two-thirds of super listeners will still be streaming an artist's music even after six months of its release.
But how does this compare to the vast ocean of music available on platforms like Spotify?
Luminate's 2023 Midyear Music Report highlights that 15% of the US general public can be categorized as superfans. These superfans engage with artists in multiple ways, not just through streaming. Physical music buyers, for instance, are more than twice as likely to be superfans. This suggests that while platforms like Spotify provide a vast array of music, superfans often have a more focused and dedicated listening pattern.
When we think of artists like Iron Maiden, it's conceivable that their superfans might predominantly listen to their music, perhaps even exclusively attending their concerts. But in the broader spectrum, with the plethora of music available, superfans might have a primary artist they absolutely adore, but they also branch out to explore other artists, albeit to a lesser extent.
In essence, while platforms like Spotify provide a universe of music, superfans often have their own galaxies they prefer to reside in. They might venture out to explore new stars and planets, but they always have a home base, their primary artist, that they return to.

Monetizing Fandom
In the vast expanse of music listeners, a unique subset stands out: Superfans. These dedicated individuals, though representing a small percentage of the total listener base, hold immense potential for artists in terms of monetization. Historically, fan clubs played a pivotal role in fostering this deep connection between artists and their most ardent supporters. These clubs, often facilitated through print magazines, offered members exclusive perks such as early access to concert tickets and unique merchandise, strengthening the bond between artist and fan.
However, as the digital age dawned, the traditional fan club model underwent a transformation. Print magazines and physical newsletters gave way to dynamic fan club apps, offering a plethora of interactive features. These modern platforms provide not just the conventional benefits of early ticket access and exclusive merchandise but have expanded to include vibrant community forums, direct artist-to-fan communication channels, live concert broadcasts, intimate interviews, and behind-the-scenes footage. This evolution has not only enriched the fan experience but has also opened up diverse revenue streams for artists.
The shift to app-based fan clubs underscores the industry's recognition of the Superfan's value. By offering a holistic, immersive experience, artists can tap into the willingness of these fans to support them, not just through music purchases but by subscribing to platforms that bring them closer to the artists they adore. In an era where genuine connection is often lost in the noise of streaming algorithms, these fan club apps are redefining and revitalizing the artist-fan relationship, proving that true fandom is not just about listening—it's about belonging, participating, and supporting.
Mental Health and the Musician
Music artists grapple with the double-edged sword of social media. Platforms like Instagram, Twitter, and Facebook offer unparalleled reach, but they also come with inherent challenges. The pressure to constantly grow followers, coupled with the demand for round-the-clock creativity, can be overwhelming. A telling 43% of creators experience social media burnout either monthly or quarterly, with factors like the fear of judgment, negative comments, and the so-called "authenticity tax" playing significant roles. Additionally, 80% of creators believe there's a cost to being genuine online, with 22% fearing judgment, 20% dreading negative feedback, and 15% concerned about a loss of privacy.
Yet, amidst this challenging landscape, fan engagement platforms emerge as a beacon of hope. These platforms provide a dedicated space where artists can connect authentically with their most dedicated fans—the superfans. Here, the focus shifts from the relentless drive of algorithms to genuine human connection. Artists can share their journey, free from the pressures and negativity of mainstream platforms, ensuring a healthier digital environment that prioritizes their well-being and passion for music.
Challenges and Opportunities
The live music industry, while pulsating with energy and potential, is not without its challenges. However, as the adage goes, every challenge presents an opportunity. Let's delve into some of the potential roadblocks and how artists and managers can pivot them into avenues for growth and deeper fan engagement.
1. Over-reliance on Concert Revenue: Challenge: With the increasing costs of touring and the unpredictability of ticket sales, relying solely on concert revenue can be a risky proposition for artists. Opportunity: Diversifying revenue streams is crucial. Fan club apps offer a consistent income through subscriptions. Fans are willing to pay for exclusive content, early access to tickets, and unique experiences. This not only provides a steady revenue stream but also deepens the bond between the artist and their superfans.
2. The Digital Streaming Dilemma: Challenge: While platforms like Spotify and Apple Music have democratized music access, they often offer minimal returns to artists, especially emerging ones. Opportunity: Windowing music releases or even sharing demos and exclusive tracks on fan club apps can be a game-changer. These platforms become a space where artists can share content that might not "fit" on mainstream platforms but is gold for superfans. It's about quality over quantity, reaching those who truly value and support the artist's work.
3. Merchandise Sales Stagnation: Challenge: Traditional merchandise sales can be hit or miss, and the logistics of it all, especially during tours, can be daunting. Opportunity: Fan club apps can serve as a direct-to-fan storefront. Exclusive merchandise drops, personalized items, or even experiences can be offered directly to the superfans, ensuring higher sales and more meaningful fan interactions.
4. The Social Media Conundrum: Challenge: While social media platforms offer reach, they come with algorithmic challenges, potential negative interactions, and can sometimes dilute the artist's message. Opportunity: Superfan community apps provide a curated space for genuine interactions. Here, artists are shielded from the broad spectrum of social media, focusing instead on those who genuinely support and love their work. It's a space of positivity, direct communication, and authentic fan engagement.
Conclusion and Recommendations
The music industry's landscape has been undergoing a significant transformation. While platforms like Spotify and Instagram have been the dominant forces for the past decade, emphasizing vast reach and numbers, a more profound, more sustainable trend is emerging: the undeniable power and importance of Superfans. Here's a deeper dive into our findings and the future of the music industry:
The Rise of the Superfan: Streaming platforms and social media have democratized music access, often emphasizing quantity over quality. A vast number of streams or followers can be impressive, but it's the depth of engagement that truly matters. Superfans, with their unwavering dedication, represent this depth. They don't just passively listen; they actively invest, both emotionally and financially. They're the ones buying concert tickets, merchandise, and engaging with exclusive content. Their commitment transcends casual listening, making them an artist's true success metric in the live music sector.
Quality Over Quantity: The industry's future lies in recognizing the value of quality interactions over sheer numbers. A million streams might look good on paper, but a thousand dedicated fans willing to invest in an artist's journey are invaluable. It's about forging a community, not just accumulating an audience. This shift towards quality ensures sustainability, deeper connections, and a more consistent revenue stream.
Genre Perspectives on Superfans: Different music genres have varied relationships with superfans. K-pop, for instance, has harnessed the power of fan clubs and fan club apps to monumental success, fostering a deep bond between artists and fans. This model, while prevalent in the East, hasn't been as widely adopted in the West, despite its evident success. However, it's not a cultural or age-specific phenomenon. Country music in the USA, with its vast superfan base, stands testament to this. It's not just legacy rock bands like "Iron Maiden" that have superfans; contemporary acts like BTS prove that Gen Z is as much into superfandom as older generations.
Recommendations:
| Action | Description |
| --- | --- |
| Focus on Superfans | Prioritize building and nurturing a dedicated fanbase. Engage with them through exclusive content, early access, and more personalized experiences. |
| Re-evaluate Platforms | While platforms like Spotify and Instagram are essential, consider platforms that allow deeper fan engagement and community building. |
| Understand Your Genre | Recognize the unique relationship each genre has with its superfans. Tailor your strategies accordingly. |
| Embrace Quality | Shift the focus from numbers to meaningful interactions. It's about building lasting relationships, not fleeting engagements. |
| Stay Authentic | In an age of digital personas, authenticity stands out. Engage genuinely with fans, understand their needs, and offer them value. |
To conclude this music industry report 2023, the future of the music industry is not just in numbers but in depth. It's in recognizing and valuing the Superfans. As artists, managers, and labels navigate this new landscape, understanding and embracing the power of the Superfan will be the key to sustainable success.